We make happiness measurable, visible and workable
Happy employees perform better, are more creative, ensure a good work atmosphere, have lower absenteeism and less chance of burnout. Happiness is therefore increasingly central to HR policy and employer branding. Not just because of better results. Also in the context of responsible entrepreneurship and good employment practices. Happiness is the shortest route to an optimally functioning organisation.
CHAP® Cambridge Happiness Profiler
For organisations that focus on:
Sustainable employability
Happiness in the workplace
Extra productivity
More loyalty
Employer branding
Happiness as a driver of performance
As a market leader in happiness, we help organisations make optimal use of the happiness potential of their employees. We do this by translating evidence-based insights from science into concrete applications in the workplace.

To CHAP® happiness report >
Increasing your happiness starts with understanding what makes you happy. The CHAP Happiness Institute offers this self-insight with the help of the unique online CHAP® Test. The test results in a Personal Happiness Report. Digital or in print. We make happiness measurable, visible and workable with the help of proven effective tools and coaching on the spot.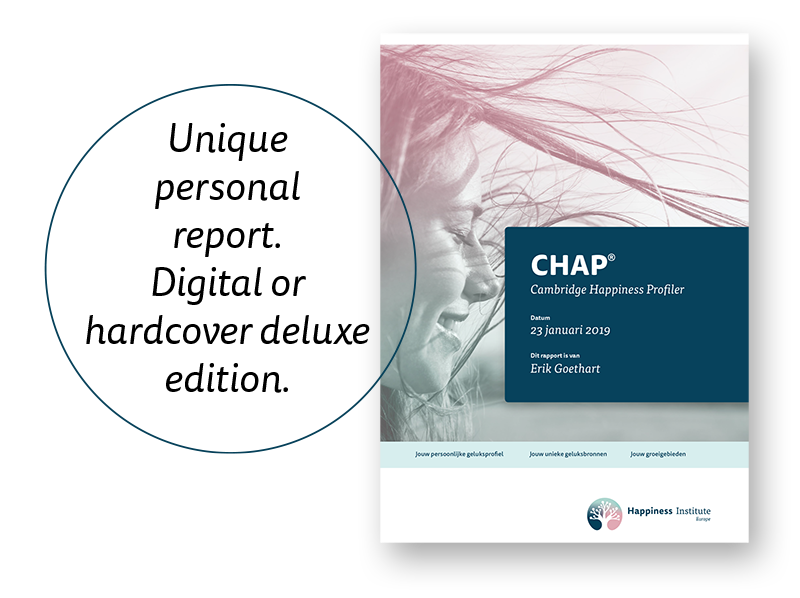 A beautiful gift We know from experience that employees greatly appreciate the Happiness Report. The fact that their employer feels involved in their personal happiness and invests in their mental health strengthens the bond.
Are you an HR manager or advisor and do you want to use the CHAP® to increase your employees' feeling of happiness? We are happy to tell you about the possibilities of a tailor-made programme. Let's get acquainted